12-12-12 : The Concert for Sandy Relief at Madison Square Garden
Back to the Blog... | Post Feedback | Author Bio | Printer-Friendly
What's shaping up to be one of New York's largest fundraisers ever and a live music historic event, 12-12-12, the one-night-only event will benefit the Robin Hood Relief Fund to provide assistance to people affected by the tri-state area's worst natural disaster Hurricane Sandy.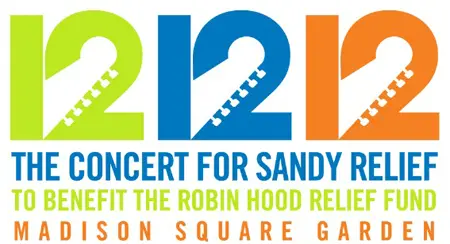 The Concert for Sandy Relief on December 12 at Madison Square Garden at 7:30 is expected to run four hours. The lineup is a music business who's-who: Eric Clapton, Dave Grohl, Billy Joel, Bon Jovi, Alicia Keys, Paul McCartney, the Rolling Stones, Bruce Springsteen & the E Street Band, Eddie Vedder, Kanye West, and The Who.
They'll be matched with star power as Steve Buscemi, Jessica Chastain, Chelsea Clinton, Sean Combs, Billy Crystal, Leo DiCaprio, Jimmy Fallon, Jake Gyllenhaal, Seth Meyers, Chris Rock, Adam Sandler, Susan Sarandon, Jon Stewart, Kristen Stewart, Quentin Tarantino, and Brian Williams lend support to the telecast telethon.
All proceeds and donations go to Hurricane Sandy victims. Sadly, as is often the case with giga events such as this, tickets are sold-out and there's mad scalping – with none of that money going to the Fund. However, there's a way to see the concert, and for free.
12-12-12, The Concert for Sandy Relief will be simulcast live in select Clearview Cinemas, Bow Tie Cinemas, Frank Theatres, Marquee Cinemas, National Amusements, and Rave Cinemas throughout the area. Tickets are available at the theatre box offices on a first-come, first-served basis.
It will be seen by over two billion worldwide. Participating media include just about every existing network and website. The concert is presented by Chase. James Dolan, executive chairman of Madison Square Garden, John Sykes, president of Clear Channel Entertainment, and Harvey Weinstein, chairman of The Weinstein Company, are producing.
In a joint statement, Dolan, Sykes, and Weinstein said, "The live simulcast will provide an opportunity for those recovering from Hurricane Sandy's devastation to have a much-needed night out. Seeing this incredible lineup on the big screen and hearing it in surround sound will make for a memorable evening."
For more information, visit www.121212concert.org. -- Ellis Nassour
Posted on December 10, 2012 - by
Browse: Special Events

---
Reader Feedback - Be the first to kick-start this discussion...

Join the discussion... To register, please

click here



---
About the Author: A look at the city's biggest and most interesting museum and gallery openings, music events, performing arts, and much more.

Recent Entries: