Fundraising and Holiday Shopping for Good Causes
Back to the Blog... | Post Feedback | Author Bio | Printer-Friendly
There are only nine shopping days 'til Hanukkah and 25 shopping day 'til Christmas. Shop 'til you drop, but also give the gifts that keep on giving, especially to those less fortunate. Especially in the wake of Sandy, the Red Cross, United Way, and religious groups need your support. If you came out of the worst natural disaster in New York history unscathed, count your blessings and help those who lost so much.



BC/EFA Cares
For almost a quarter century, Broadway Cares / Equity Fights AIDS has been one of the nation's leading industry-based, nonprofit AIDS fundraising and grant-making organizations. Drawing upon the talents, resources, and generosity of the theater-going community at myriad fundraising events, including the twice-annual in-theatres drive, BC/EFA events have raised over $225-million for essential services for people with AIDS and other critical illnesses.

These include programs at the Actors Fund, including the Phyllis Newman Women's Health Initiative, the Al Hirschfeld Free Health Clinic [named in honor of the famed New York Times caricaturist], and 450 AIDS and family service organizations across the U.S.

You can support BC/EFA shopping online at www.broadwaycares.org for clothing, jewelry, books, special collections, gift certificates, and stockingfuls of joy with one-of-a-kind items is through their Catalog of Giving.

Help BC/EFA and Have a Blast
Join The New York Times and United Airlines as they support BC/EF at what has come to be known in the theatrical community as "the year's second most exciting fundraiser" [after summer's Broadway Bares] and "the holiday season's most dazzling talent show", the Gypsy of the Year competition. It's certainly become one of the season's biggest star-studded parties with appearances by dozens of Broadway and Off-Broadway's performers.

There are two shows: Monday and Tuesday at 2 P.M. Tickets are $20- $350. Purchase online at www.broadwaycares.org or by calling (212) 840-0770 X. 268. Through the annual generosity of Disney Theatricals, the show takes place at their magnificently-restored New Amsterdam Theatre, home to Mary Poppins [the youngsters from the musical brought the house down last year with their versions of Who's Afraid of Virginia Woolf and A Streetcar Named Desire].
Highlights will include a tribute to late lyricist Fred Ebb of Kander and Ebb fame, who bequeathed nearly $7-million to BC/EFA in his will. David Hyde Pierce and Deborah Monk are among cast members reuniting from Curtains, one Kander and Ebb last shows. A host of alumni from their Chicago will be among the 200 performers.
Gypsy of the Year's opening number will celebrate Broadway dance, spotlighting West Side Story, Fosse, 42nd Street, The Will Rogers Follies, Crazy for You, Legally Blonde and A Chorus Line choreography and choreographers.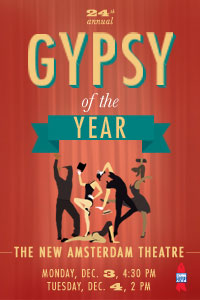 As almost everyone who loves theater knows, "gypsy" refers to those hardworking dance ensembles in musicals. The Gypsy of the Year competition is the culmination of six weeks of intensive fundraising by New York shows and national touring companies. But the party aspect is that talented singers and dancers from shows and tour companies present the most outrageous original skits, vying for awards decided on by a celebrity judge panel. Almost every skit and has a major celebrity as surprise guest star. Last year, Gypsy of the Year raised an all-time high just short of $5,000,000, pushing the competition's 23-year total to over $49,000,000.

Ford Cares, Too
Ford Motors has been active in the fight against breast cancer since 1993. The company has dedicated more than $115 million. In 2006, Ford intensified its efforts by introducing Warriors in Pink and the Ford Warriors in Pink line of wear and gear with 100% of net proceeds from sales is dedicated to charities that offer a wide-range of support.

To add your support, "Wear the gear! Spread the word!", shop online at warriorsinpink.ford.com -- where you can enter to win a 2013 Warrior edition Ford. To date, Warriors in Pink has generated over $3,600,000.

Ford Warriors in Pink also sponsors the Komen Race for the Cure and features commercial endorsements by major stars on TV and in print. Greater awareness which can lead to earlier diagnosis, which in turn saves lives, is the goal. It's vital to keep the topic of breast cancer part of everyday conversation and encourage women and men to engage in self-exams. -- Ellis Nassour

Posted on November 30, 2012 - by
Browse: Special Events | Theater

---
Reader Feedback - Be the first to kick-start this discussion...

Join the discussion... To register, please

click here



---
About the Author: A look at the city's biggest and most interesting museum and gallery openings, music events, performing arts, and much more.

Recent Entries: