Post Feedback | Printer-Friendly | Send Article to a Friend
March 28, 2013 - by CG News Desk
In anticipation of the reopening of the Statue of Liberty on July 4, Statue Cruises is expanding its daily Statue of Liberty Harbor Tours, giving visitors even more opportunities to enjoy the closest views of the Statue of Liberty now. With up to 20 departures a day, seven days per week, the tours offer visitors and locals exceptional flexibility and choice. Statue Cruises has a tour to fit everyone's schedule.
Passengers experience the closest possible views of famed New York City landmarks and may interact with National Park Service Rangers on-board. Rangers will sail on every harbor tour to lend their valuable expertise to passengers. This initiative brings well-trained rangers on-deck and on-hand to lend their valuable expertise to passengers. Designed to enhance the educational aspect of the experience, the rangers personally engage with passengers by assisting with inquiries and sharing their expert knowledge.
Sites include the Statue of Liberty, Ellis Island, the 9-11 Memorial, the South Street Seaport, Governors Island and the Brooklyn Bridge, among others. The hour-long tours depart from Battery Park at the foot of Manhattan every 30 minutes, seven days a week from 9:00am-5:00pm.
Tickets for the narrated sightseeing tours are $24 (adults); $17 (seniors) and $12 (children). Tours depart daily from Battery Park at the foot of Manhattan.
Tickets can be purchased online here, by phone at 201-604-2800, or at the seawall in Battery Park. For more information visit statuecruises.com.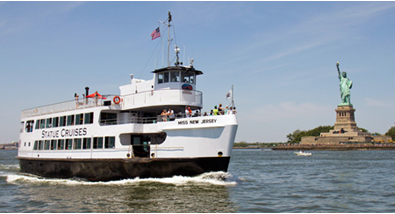 Archives:
Related Articles
Most Popular Articles on CGNY