Post Feedback | Printer-Friendly | Send Article to a Friend
October 11, 2012 - by Linda Sheridan
There's no shortage of Halloween activities in New York City! There's something for everyone from a special sleepover at Ripley's for little kids, haunted houses for teens, to more adult festivities. Check out our roundup of events. For some spooky NYC theater, including KILLERS, Sleep No More, and The Haunting of St. Marks Place, click here. Happy Halloween!
CONEY ISLAND'S NIGHT OF HORROR Choose from two destinations of terror: Coney Carnival and Cuddie Farm. Weekends through Oct. 28. lunaparknyc.com
Through 11/03/12
BLOOD MANOR New York City's renowned haunted attraction is now open. Fourteen and up. 163 Varick Street, NY, 212-290-2825, bloodmanor.com
10/20/12
12TH ANNUAL HALLOWEEN HARVEST FESTIVAL Families can make a costume, listen to live music, and enjoy special art making workshops. Enter the family dog in the 8th Annual Canine Costume Contest or just watch the parade of, creatively clad dogs, paint a pumpkin, try harvest foods from a local restaurant. 11am-3pm. Socrates Sculpture Park, 32-01 Vernon Blvd., LIC, 718-956-1819, socratessculpturepark.org
10/21/12
KIDS 'N COMEDY IN 'THE TERRIFIED OF EVERYTHING HALLOWEEN SHOW' Kids 'N Comedy, New York's leading presenter of young comic talent, will open its 2012-2013 season with "The Terrified of Everything Halloween Show," a confession of deep, dark fears by the funniest teenagers in the tri-state area. The show will launch a new season of themed shows for which the young comedians will create exclusive material. For the second full season, each show features new writing by the comedians appearing, which they are creating expressly for the varied topics of the shows. 1pm. For kids nine and up. $15 plus a one item minimum. Gotham Comedy Club, (venue separate from event planner) 208 W. 23rd Street, NY, 212-877-6115, kidsncomedy.com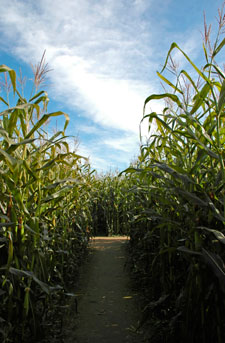 10/25/12
INTREPID MUSEUM FALL FESTIVAL 2012 Celebrate fall at Intrepid Museum! Make your way through a giant, family-friendly corn maze and exit into Intrepid's very own pumpkin patch! On Saturday and Sunday, October 27-28 children of all ages can also decorate their pumpkin with a fun (or spooky) face! FREE. 10am-6pm. Intrepid Museum, Pier 86, W 46th St and 12th Ave, NY, intrepidmuseum.org.
10/26/12
HALLOWEEN HAUNTED HOUSE Families can enjoy a haunted house for thrills and chills, along with hayrides, and halloween treats, mulled cider, pumpkins and apples available for purchase. The house is recommended for children ages 4-12. Adults will find it creepy too! 4-7pm. Through Oct. 28. Queens County Farm, 73-50 Little Neck Parkway, Floral Park NY, 718-347-3276, queensfarm.org
DEAD OR ALIVE: HALLOWEEN AT NYSCI Kids can create edible tricks and treats with candy makers, molecular gastronomists, and food scientists. Virtual costume party with live music, video productions and food trucks. 10am-6pm. Through Oct. 28. New York Hall of Science, 47-01 111th St., Corona NY, 718-699-0005, nysci.org
CARNIVAL DES CORBEAUX: SIX NIGHTS OF REVELRY The McKittrick Hotel, home of Sleep No More, announces details of Carnival des Corbeaux, the follow-up to last year's Halloween festivities at The McKittrick. The Carnival des Corbeaux runs for six consecutive nights, each night having its own costume theme to which guests will be asked to strictly adhere. Each night of the carnival commences immediately following that evening's performance of Sleep No More, which will—on those evenings only—offer audience members the enhanced experience of touring The McKittrick Hotel in costume prior to attending the Halloween festivities after the show. Tickets to Carnival des Corbeaux will be sold both as a package with Sleep No More or separately, allowing guests not attending the show to still join the party afterwards. Through Oct. 31. McKittrick Hotel, 530 W. 27th Street, 866-811-4111, McKittrickHotel.com/carnival
HALLOWEEN MURDER MYSTERY In this fictional mystery game, loosely based on an historic newspaper account, an unidentified skeleton has been discovered under the floorboards of the Mount Vernon Hotel. Who was killed? By whom? With what? Explore the museum by candlelight, and collect clues to unravel the mystery and solve the case. Reservations recommended. Also Oct. 27. 6:30pm & 7:30pm. Mount Vernon Hotel Museum & Garden, 421 East 61st Street, 212-838-6878 mvhm.org
SYFY HALLOWEENYC FEST All weekend long, enjoy entertainment on a spooktacular SyFy Stage. Catch performances by Princess Katie & Racer Steve, The Amazing Max, Apple Seeds' Songs for Seeds, and more! Activities include Ghost Hunters goodies, Hot Set Hands On Crafts Center, Paranormal Witness Photo Booth and a Face Off Painting Station. Til 6pm. Through Oct. 28. Flatiron Plaza, 23rd Street, between Fifth Avenue and Broadway, NY syfy.com/halloween
10/27/12
RIPLEY'S BOO-LIEVE IT OR NOT! SLUMBER FEST RETURNS TO TIMES SQUARE Ripley's Boo-lieve It or Not! Slumber Fest returns to Ripley's Times Square this Halloween to put a spooky twist on the Odditorium's famed "Extreme Sleepover." This spine-chilling overnight experience thrills with unbelievable sideshow performances, costume contest, Halloween scavenger hunt and more. Includes admission to Ripley's Odditoriom; Halloween themed scavenger hunt; late-night haunted house; access to Ripley's Impossible LaseRace™; pizza dinner and breakfast; a screening of a Halloween themed family movie; costume contest with prizes; live entertainment; and a souvenir goody bag featuring bug candy and a Ripley's t-shirt.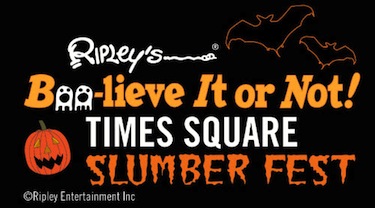 All guests need to bring is a sleeping bag, pillow, pajamas, flashlight, costume and their curiosity. 7pm, ends at 8am the next morning. One night only! Suitable for children ages 6 and up. One adult (over age 21) is required for every four children attending. $129 per person. Ripley's Believe it or Not, 234 West 42nd Street, 212-398-3133 ripleysnewyork.com
ANNUAL HALLOWEEN PARTY AT THE NYC POLICE MUSEUM Join the Museum for their annual spooky good time. Halloween features hands-on activities for children including making "slime,", decorating trick-or-treat bags, giveaways and safety tips for parents. This event is perfect for families with children ages 3-12. 11am-2pm. 100 Old Slip, 212-480-3100; www.nycpm.org
ZEPHYR HALLOWEEN GHOST SHIP CRUISE Board the ZEPHYR as it transforms into a haunted house on the high seas. Expect plenty of treats aboard the 143-ft luxury yacht's costume extravaganza-including a special guest appearance by Spider-Man-direct from Broadway! Be sure to pull out all the stops on your costume-judges will be selecting winners in several categories and awarding the most daring and creative! $50 per person. 9:30pm. South Street Seaport, Pier 16, newyorkwatertaxi.com
10/29/12
TRICK-OR-TREAT! TREAT YOURSELF & YOUR FAMILY TO BAX'S HALLOWEEN PLAYSPACE! Help kick off BAX's playspace season at its Third Annual Halloween Playspace. Parents/Caregivers/Children are encouraged to come in costume. $10.00 per family. BAX, 421 Fifth Avenue, 718-832-0018, bax.org/performances-events/special-family-events/halloween-playspace
10/31/12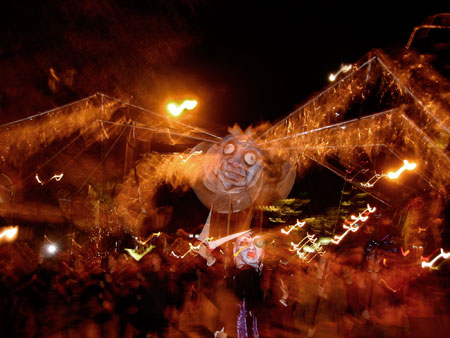 VILLAGE HALLOWEEN PARADE All those in costume are welcome to join hundreds of puppets, 53 Bands of different types of music, dancers and artists, and thousands of other New Yorkers in costumes of their own creation in the nation's most wildly creative public participatory event. Alert - ONLY enter the line-up on 6th Ave. from the East and South between Canal and Spring. 7-10pm. halloween-nyc.com
HALLOWEEN CELEBRATION More than 30 of the Museum's popular halls will be open for trick-or-treating, arts and crafts, fun with roaming cartoon characters, and live performances. Past performers and characters have included Curious George, Winnie-the-Pooh, Strawberry Shortcake, Clifford the Big Red Dog, Madeline, Maya & Miguel, David Grover and the Big Bear Band, Louie & Subanda, performers from the Big Apple Circus, and stilt walkers. 4pm-7pm. AMNH, Central Park West at 79th Street, Upper West Side NY, 212-769-5100, amnh.org
HALLOWEEN BASH WITH THE MISFITS There isn't a more iconic name in the horror punk genre than The Misfits. Hailed as an influence and covered by numerous successful and diverse artists ranging from Metallica to Guns N' Roses, the band has remained relevant throughout its illustrious 35-year career. 8pm. $40. Highline Ballroom, 431 W. 16th Street, NY 212-414-5994, highlineballroom.com
UNICEF MASQUERADE BALL The UNICEF Masquerade Ball is an unforgettable Halloween party—costumes and all—that brings UNICEF's work to the next generation of young philanthropists in addition to celebrating UNICEF's Trick-or-Treat campaign. Surround yourself with dancing Frankensteins, Stormtroopers and all things spooky at the third annual UNICEF Masquerade Ball! Music by Neil Jackson & DJ Lawerence Lee, Magic by Josh Beckerman,Raffle Drawing, Facepainters , Costumed preferred (dress as your hero)/black-tie permitted. 8pm. Angel Orensanz Foundation, 172 Norfolk Street, NY, 212-373-6148, unicefusa.org/about/special-events/masquerade
KA'DAVARET: BROADWAY'S HALLOWEEN CABARET Ka'davaret, Broadway's Halloween Cabaret is hosted by Lance Roberts (Broadway's Ghost, Sister Act, Jafar in Disney's Aladdin and The King of Cartoons in The Pee Wee Herman on Broadway). Ka'davaret features some of Broadway's finest performers singing some devilish ditties from musicals with a "darker" theme, including Sweeney Todd, Little Shop of Horrors, Wicked, Kiss of the Spiderwoman, Damn Yankees, Phantom of the Opera and more. Special guests include Tony nominees Robin De Jesus (In the Heights, La Cage aux Folles), Da'Vine Joy Randolph (Ghost), Jen Noble (Ghost), Jennifer Sanchez (Spiderman), Chester Gregory (Sister Act, Cry Baby, Tarzan, Hairspray) and Caissie Levy (Ghost, Hairspray, Wicked and Hair), with more to be announced shortly! 11pm. 54 Below, 254 West 54th Street, 54Below.com
Archives:
Related Articles
Most Popular Articles on CGNY