Post Feedback | Printer-Friendly | Send Article to a Friend
May 10, 2013 - by CG News Desk
For those craving a show after the show, 54 BELOW, located just below the legendary Studio 54 at 254 West 54th Street, offers its Tuesday night cocktail party/songfest, "Backstage."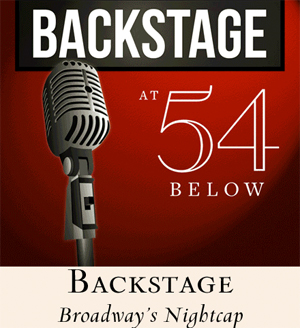 Each week, Broadway cast members and audiences alike gather to mix and mingle at 54 Below, Broadway's most intimate haunt, located in the heart of the theatre district. Musical Director Brad Simmons keeps the house jumping from the piano, while host Susie Mosher (the love child of Joanne Worley & Paul Lynde) guides the crowd through an evening of music, mayhem and full throttle belting. Special guests from hit Broadway shows drop in to perform and answer the question on everyone's minds, "what happened in the show tonight?" Members of the Backstage repertory company, featuring some of New York's most exciting musical theatre talent, are on hand each week to sing everything from Schwartz to Sondheim. You might even get up and sing yourself if you're feeling brave, or relax with a cocktail – the night belongs to you.
There is no cover charge for "Backstage," merely a $20 food and beverage minimum. There is a full bar and dinner menu available. The doors open at 10pm.
On Tuesday, May 21, special guest stars include Paul Vogt (Hairspray, "MAD TV"), Jonathan Rayson (Little Shop of Horrors, Legally Blonde), Karmine Alers (Rent), Yassmin Alers (Rent, Rocky Horror Show, Across the Universe), Ryan Scott Oliver (Composer), Alex Brightman (Big Fish, Wicked), Craig Pomranz (celebrated cabaret performer), Julia Mattison (Godspell), and Jim Brochu (Zero Hour, The Big Voice, God or Merman). No cover charge. $20 food & beverage minimum.

For more information, call 646-476-4551 or visit 54below.com. Order tickets online here or call 866-468-7619.
Archives:
Related Articles
Most Popular Articles on CGNY