Post Feedback | Printer-Friendly | Send Article to a Friend
November 12, 2012 - by Griffin Miller
Unlike Las Vegas, where the catchphrase "What happens in Vegas, stays in Vegas" rules, Manhattan—teeming with the crème de la theatre—cries out to be shared with everyone, from BFFs to Nana to the kid who delivers the morning paper. In fact, it's practically your duty to flash those stage-door autographs, hand out Spider-Man t-shirts, and regale one and all with personal anecdotes ("So we were having dinner after seeing Evita and who should walk into the restaurant but Ricky Martin!!! and I was like, OMG! Does this happen all the time in New York?" Yes, yes it does.)
And while I cannot guarantee you'll see Al Pacino (taking a break from Glengarry Glen Ross) tossing back an espresso in a Starbucks, I can assure you that the current roster of Broadway productions has something for everybody and, if you choose wisely, you'll leave the theatre with amazing memories and more Tweets than an aviary.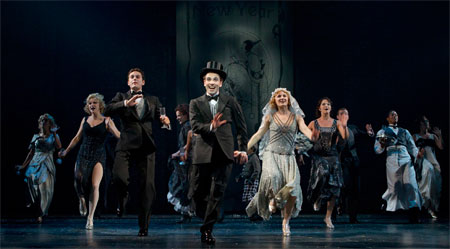 On the musical front, the letter "C" seems to be getting a lot of attention—and rightfully so. Chaplin: The Musical, a look at the life, times, and controversy surrounding the man who made silent film's Little Tramp into a cinematic icon, is raking in audience adulation—it recently extended its run at least through early June 2013—thanks to actor Rob McClure, who so brilliantly portrays the title character. And incidentally, the man behind the show's book is three-time Tony winner Thomas Meehan (The Producers; Hairspray), who has a Great White Way trifecta going on at the moment having worked on two other musicals now running: the revivals of Annie starring two-time Tony winner Katie Finneran (Noises Off; Promises, Promises) as Miss Hannigan and Elf, with Tony winner Beth Leavel (The Drowsy Chaperone) and Seinfeld's Newman, Wayne Knight.
But back to the Cs. Another show making its debut this season is A Christmas Story, The Musical—a new musical adapted from the nostalgic movie classic about the holiday trials and winter tribulations of Ralphie, a kid with his heart set on getting a Red Ryder BB gun for Christmas. The show costars Dan Lauria (Sullivan & Son; Lombardi; The Wonder Years) as the show's narrator, humorist, and storyteller Jean Shepherd.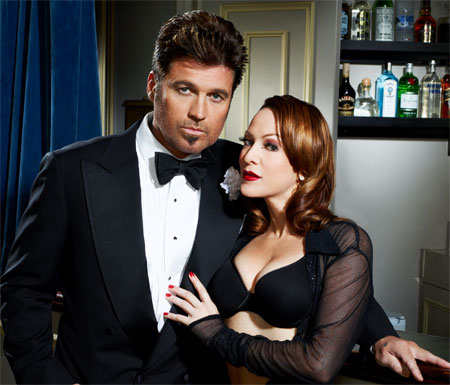 Of course, I'd be remiss if I failed to mention one of my favorite long-running shows, Chicago, which will be having one mega anniversary on November 14 when it hits the 16-year mark. Oh, and FYI: In mid-December it will take over the title of "third-longest-running show in Broadway history," bumping Les Misérables to fourth place. But that's not the only Chicago announcement: from November 5 through December 23, the role of spotlight-grabbing legal eagle Billy Flynn will be played by multi-platinum recording artist Billy Ray Cyrus in his Broadway stage debut!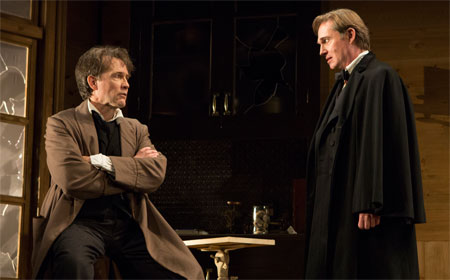 Moving on to the non-musicals, let me say that three stage classics have returned to Broadway in productions that share three traits: all are spellbinding, seminal, and have been extended due to popular demand. In Ibsen's An Enemy of the People, four-time Tony winner Boyd Gaines and Emmy winner Richard Thomas couldn't be better matched as siblings on opposite sides of a powder keg of an issue that affects the welfare of their hometown. Yet it wasn't their performances alone that impressed critics and audiences, it was the way they blended so beautifully with the spirited pacing by director Doug Hughes and acclaimed new adaptation by Rebecca Lenkiewicz.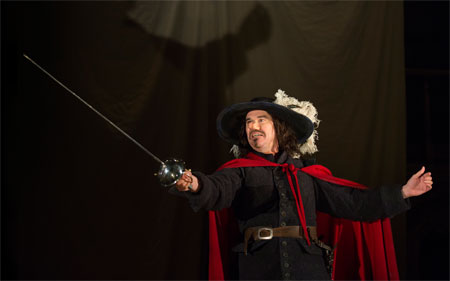 Cyrano de Bergerac, starring Tony winner Douglas Hodge (La Cage aux Folles) as Edmond Rostand's hero with the voluminous nose, is another eye-opener. Hodge, a British actor with a blisteringly animated passion for verbal nuance, is a glorious, if uncanny, force of nature in this rhyming translation by Ranjit Bolt.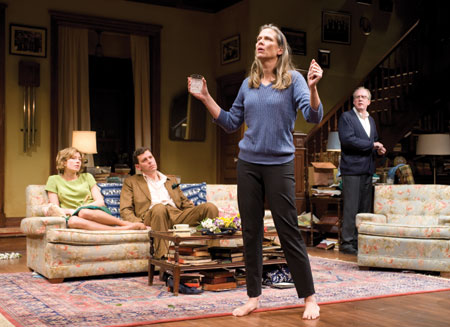 Finally, there's Steppenwolf's Tracy Letts and Amy Morton as George and Martha, igniting Edward Albee's blowtorch couple in portrayals that redefine all we've come to expect from Who's Afraid of Virginia Woolf? There's something about way these two actors, these two people, navigate their long night's journey into day: goading, sniping, seducing, toying with their vulnerable pawns/guests (achingly portrayed by Madison Dirks and Carrie Coon) and each other. This Virginia Woolf is a ballet of manners, bad manners admittedly, but amazing to behold and a shame to miss.
Archives:
Related Articles
Most Popular Articles on CGNY